Milepost 38 has been serving the region's model railroad enthusiasts since 2001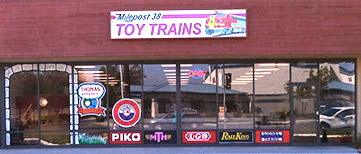 Jerry Keys opened Milepost 38 Model Trains on November 10, 2001.
The original location of Milepost 38 was along the BNSF mainline making it a great place to watch trains on one of the nation's heaviest traveled rail corridors and serve the modeling community at the same time.
The location was not only exciting for rail fans but provided easy access for modelers from all over Southern California.
In 2014, Jerry was ready to retire after building a very successful business over the past 13 years and Milepost 38 was sold to Matt Haynes and Greg Arnold, the owners of Arnie's Trains in Westminster. Matt & Greg had a big decision to make, keep MP38 at its location in Anaheim Hills, or look for a new home where rent would be more reasonable to support a train store.
There was vacancy right next to Arnie's Trains and then Greg came up with the idea to move MP38 right next to Arnie's Model Trains and turn Milepost 38 Model Trains into Milepost 38 Toy Trains that would specialize in the bigger trains (O & G). Matt and Greg came to a lease agreement with the landlord and the new location of MP38 was finalized.
Time to move. This was a massive move, MP38 had lots of inventory, retail displays and a 1/2-scale Santa Fe Alco engine front to move. Matt and Greg contracted Lloyd's Layouts to build the grand centerpiece, an 18′ by 7′ layout to display the latest Lionel, MTH, LGB & Piko starter sets and accessories.
After many late nights, and hard work we were ready for the Grand Re-Opening. On June 7th 2014 MP38 held the Grand Re-Opening at the new location in Westminster right next to Arnie's Model Trains. It was a huge success with around 500 people that showed up to see the new look of Milepost 38.
The new Milepost 38 Toy Trains is Southern California's newest train store to visit and has over 3,000 square feet of nothing but trains!
The new store specializes in big trains, so if you're looking for O or G Gauge, you've come to the right place! We are an authorized Lionel, LGB, MTH, Piko, Bachmann, BRIO, and Thomas dealer!
If you're a modeler and enjoy modeling HO, N or Narrow Gauge, right next door is Arnie's Model Trains. Arnie's Model Trains is a store dedicated to the model railroaders, you will find everything you could possibly want in HO, N, and Narrow gauge.
The two stores create a Model Train Super Center with almost 7,000 square feet filled with model trains! Nothing like this exists out there. This is a must-go-to place if you're from around the area or on vacation and visiting the Los Angeles/Orange County area.
Milepost 38 Toy Trains still carries a large selection of Thomas the Tank Wooden Railway by Fisher-Price & BRIO for our little engineers starting off. We have 10 brand new display cases filled with new & used O and G gauge trains.